Having your own website is extremely important if you are a student, entrepreneur, artist, project junkie, film maker, or anything, really. It is one central spot on the internet that anyone can go to and see you, your work, your cat pictures, and what awesome things you can do for them. Social media is a great tool, of course, but it is not permanent and many people find out the hard way social media is in no way a good "home" for you.
Social media is pretty limited in audience in a few ways. First, the audience has to use the same social media you have in order to "follow" or "be friends with." Second, you are relying on that social media site to be available every day. Next, social media is temporary. Setting up a Facebook page for your company in five years (or less) from now will be just as silly as setting up a MySpace page. Even when new platforms of social media come around, audience retention is extremely challenging. Just because they follow you now does not ensure they will on the next platform.
Having your own website looks professional and diligent on your part. It can be exactly how you want it to look, have the specific features you'd like, and it acts as a separation between your personal life and your work life. Getting and making a website is extremely simple now. If you're a programmer or web designer, making your own website from the ground up is a portfolio item in itself. For everyone else, websites can be make without using a single line of code.
I have made many websites over the past few years for myself, my work, my friends, and now I'm interning for someone who needs a specific website. Though it is easy to make, there is a lot involved that many people do not know about when they first get started. There are many ways to do it, but I want to show you step by step how I get a website onto the web!
Domains
The first step in any website is the domain (your ".com"). Now that the internet is much more evolved, we can use more than ".com" or ".net". You have over 200 options for your "dot". Google Domains allows you to easily search and buy domain names. Domains don't have a set price, rather algorithms price them based off of what you want. For example, something really broad or generic may cost a lot more than something very specific.
We can see the price difference here for two domains I searched. The first was extremely generic and popular (video) and the second (mycatblog) was more specific and less used.
"video" was pretty much taken on every extension, and would cost me more than $10,000 per year! That's JUST for the name!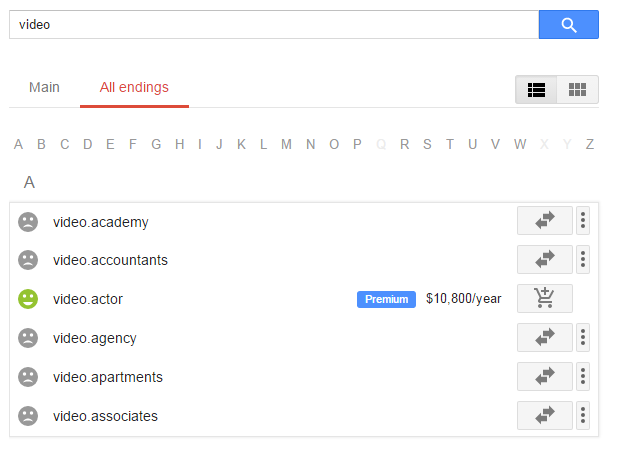 "mycatblog" was much more available, and much more specific than "video." We can see the price fluctuates between $12 - $30 depending on the extension you want.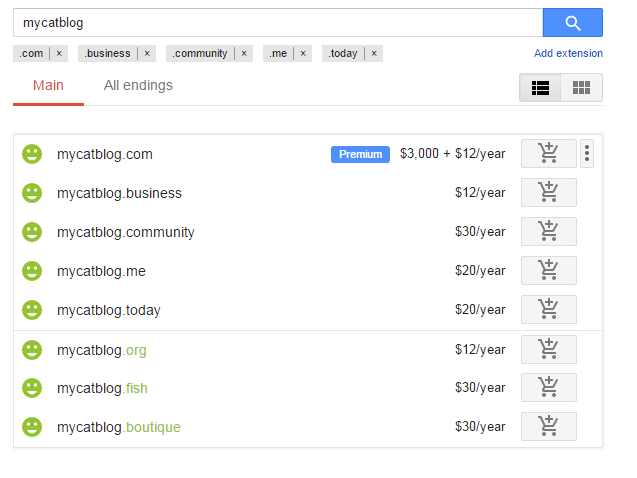 Notice the price of "mycatblog.com." There is a premium for that website that costs $3,000. That means someone already owns this site but will sell it for a one time payment of $3,000. After that, you'd pay $12 a year for the name.
Once you find the domain you like and pay for it, it's yours! You now have it until you stop renewing it - usually on a one year basis.
Hosting
So, now you have your cool new domain. What now? If you go the domain on the internet - nothing will be there! That is because you aren't hosting anything on that address. I recommend using Squarespace as a host for the people that just want to get a website built, make it look amazing, and have extremely powerful tools for commerce or cool features without having to write any code. Squarespace is a paid service (monthly or annually) that hosts your website. Here is where you design everything and make it look pretty for the internet. You can choose to start with a template that you like, or start from scratch and build your own. They do a great job of helping you through the process.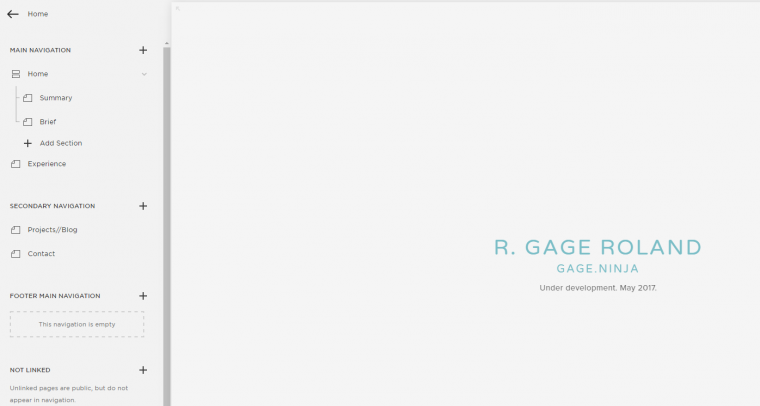 Getting your domain and your host to "talk"
So, now you have a domain and a cool looking website, but they don't know that they belong together yet! You must tell your domain that you are going to connect it to your host.
Under your domains, you select that you want to "build" the site. Find your host (Squarespace) and tell it you want to connect an existing account.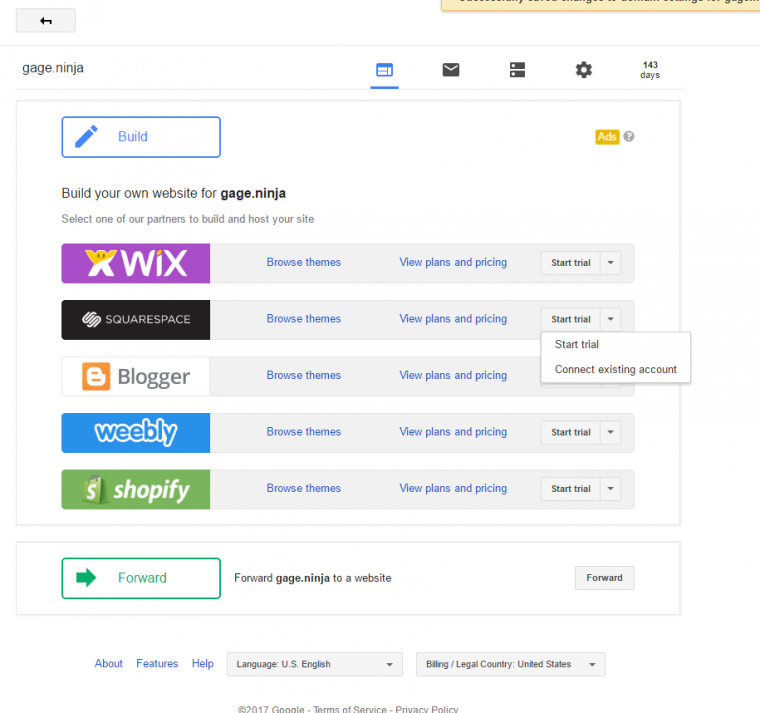 You will be brought back to the Squarespace login and then select a destination for your domain. You will be notified that your domain will now be directed to your Squarespace website! There are a few more things to make sure of before you're done.
The connection takes a little bit of time to establish, so you may not be able to go instantly to your website through the domain.
Squarespace uses an SSL connection. This may take some time to process the certificate, so when you try to go to your website you may see a scary warning.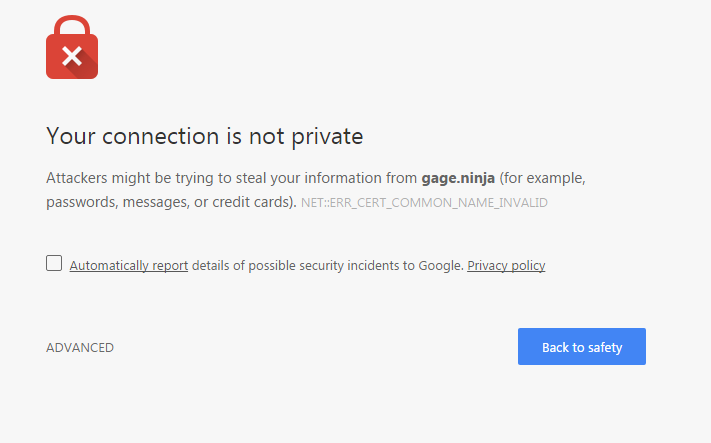 This is okay and should be resolved within 15 minuets.
Creating websites and getting them online has never been so simple. I highly encourage everyone to have their own place on the web.