Hello all,
Here at UAT we are moving into our finals weeks. I've been explaining to newer students how finals work around here. I've heard that many colleges and universities have a finals week that is usually a week after the semester and is just testing, writing papers and more testing. We work a bit differently here. So is you are an on-campus student at UAT you'll have 15 weeks of school in one semester. Believe it or not, it goes by extremely fast. Around week 12 or 13 our professors will assign our finals. Now here at UAT we do most of our work through projects. Because of this, usually our finals are a project. For example this semester my Japanese II final is to create a video or story book about my college life, or my Advanced Rigging and Mo-cap is implementing a lot of the animations that we've done in the semester into a game engine and making a cinematic video. These are more like projects, than assignments. You can see below one of my finals that I've done in the past for my texturing class. It was essentially a level that was textured by me implemented into a game engine.
[su_youtube url="https://www.youtube.com/watch?v=iBZvPhFFTw8"]https://www.youtube.com/watch?v=oi7KPDi_yQI&feature=youtu.be[/su_youtube]
Right now we are closing week 13 and for me, all of my finals have been assigned. As you can probably guess this is quite a stressful time for the students here at UAT. Essentially it's crunch time to get everything done as soon as you can to work out any issues you'd have and still have time for it. For me personally I know I have about 20+ hours of work to do before I'm done with all of my projects and then twice as many meetings as I usually do a week. So how do you de-stress during this stressful time? Well I can definitely tell you that this song will become very popular:
[su_youtube url="https://www.youtube.com/watch?v=CYsrV3zGd0c"]https://www.youtube.com/watch?v=oi7KPDi_yQI&feature=youtu.be[/su_youtube]
So During this time there is still a lot to do for students. I always try to find something to help me relieve my stress. If you've read my past blogs you might know I'm a D&D fan and I usually play about twice a week. This is a great stress reliever for me. We also have tons of clubs, I know sometimes playing Super Smash Bro's and beating people is a great way to get your confidence back up.Many clubs have special things they do during finals to help the members de-stress. Maybe the cooking club will cook food and make tea that calms nerves. It's also calming to go into the commons and know that you're not alone in your life of finals. During this time of the semester the commons gets pretty packed so you'll see a lot of students in the same situation as you.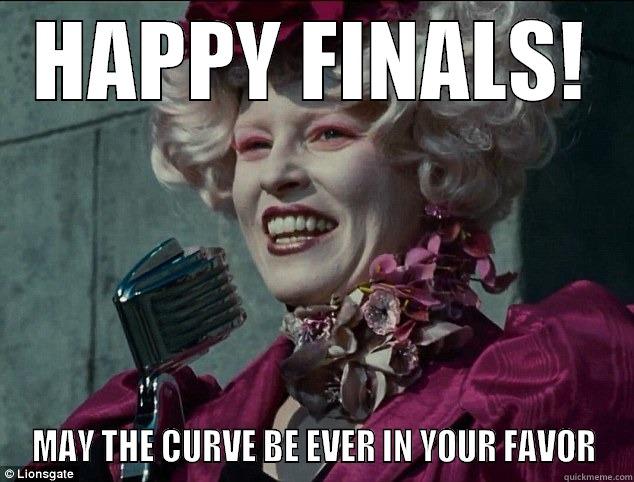 I have to say, I quite enjoy how UAT does their finals. It makes me feel more confident in what I am doing. I know and feel that if I put my all into a project it's fairly easy for my professor to see this. Having projects is also much better to handle then a whole bunch of tests and papers. I know that once I'm done with a project I'm done with it and it really shows off what I've learned through the semester and not from just quick memorization but from physical things. I also have something to show once I'm done with the semester. Usually your final is a good enough quality to put into your portfolio. If it's not good enough it should be on it's way so you can adjust somethings later to add it then. Finals are a good thing here and despite the stress that may come with it, it's definitely worth it in the end.
That's all for today and good luck if you have finals of your own!!
Karina