The Watchers of the Wall are the Student Ambassadors who defend the front desk. I'm one of these said Watchers that perform these daily tasks. I am but a simple Knight with a monster in my sheath always prepared to joust. Why there are also other knights! Such as Sir John he is the Jester of the Wall. Then there is Sir Jordan a true man of merit with chivalry unrivaled. We also have Sir Hakim who is not afraid to show off his pride. Another Knight is Sir Andrew who can charm his way out of every situation. Ah yes how could we forget Lady Bailey she a greenhorn just like me, formed a rivalry for the coat of arms purple. Our Lady Stefani a Baron in her own right orders us and make sure we are well rewarded for our duties. As we serve the High Lord Sir Robert of the high table, he gives us the honor to serve in his name. We man the cleverly named Wall, the "Donut" and it resembles just that, A Donut.
We do what others cannot nor will not do. Such as performing social activities and interacting with prospective students as well answering phone calls then transferring to an advisor. Then sorting through the mail every day and delivering them throughout the keep till we reach the Elders room and we trend very carefully as they work in complete silence.
After a while we grow hungry, so we take our break and eat at the dining hall and feast. We eat exotic and luxury food such as pizza and ramen! When the hour goes by, we are back at our administration duties. Working on student accounts and making sure everything is accurate to the very case sensitive detail. Sometimes it's intense that my eyes even sweat!
To close out the long day we feed the fish their water grass, clean the wall, put away the tools we use to carry out our sacred duty. We then lock it all down and head our separate ways knowing we will all meet again to take our next watch over the donut.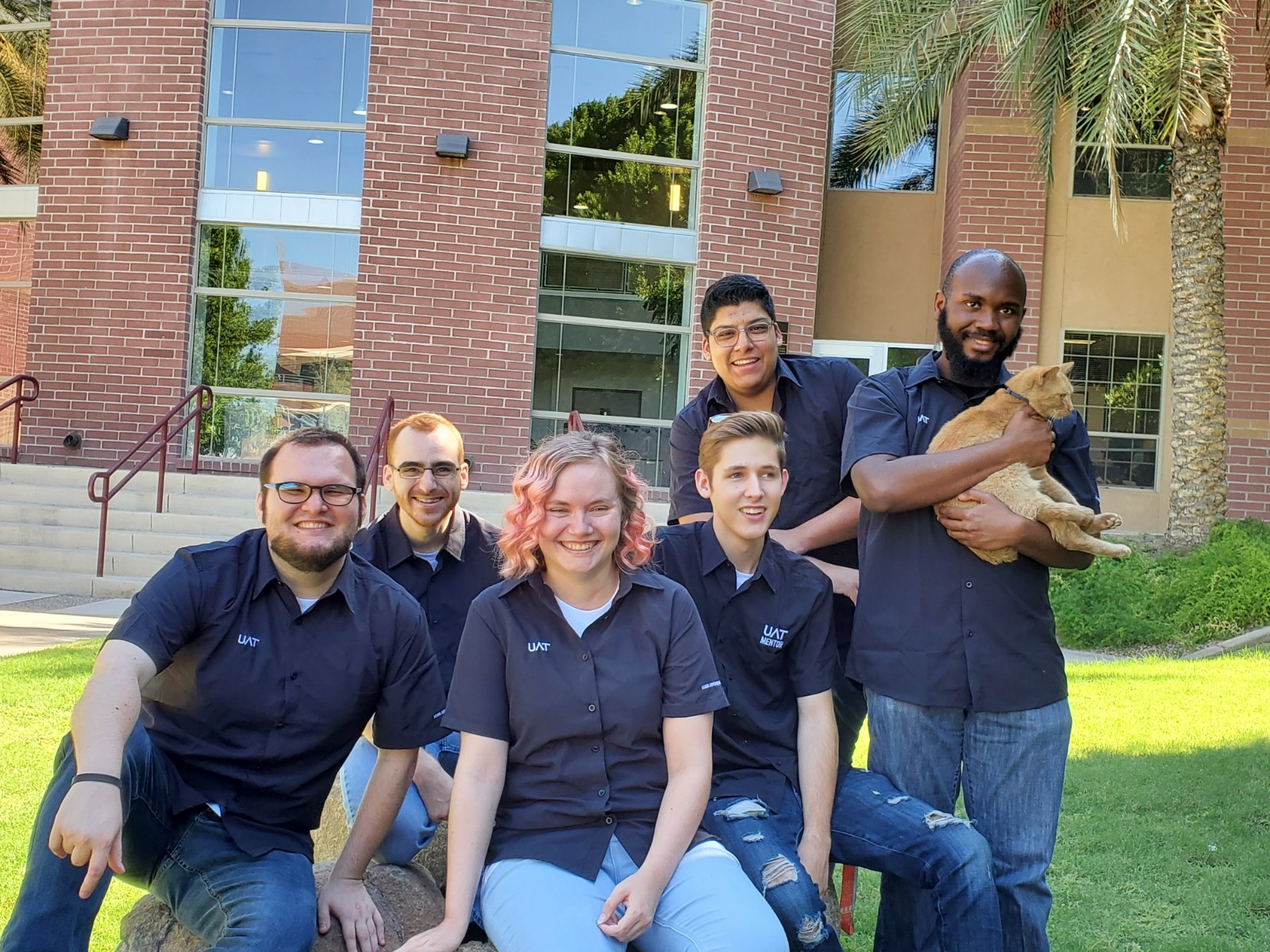 From Left to Right:
John Balog - Game Art & Animation, Jordan Brown - Advancing Computer Science and Game Programming, Bailey Nielsen - Business Technology and Web Design, Andrew Maddox - Network Security, Marcos Xochihua - Network Security, Hakim Ottey - Advancing Computer Science