With recent events this year, I have been spending a lot of time at home; however, I have not felt a lack of friendship. While we haven't been able to all be together, my friends and I have still been spending time virtually playing games together. Some free games, I might add.
Did you know that you can play cards against humanity online? At PYX 1 you can play it for free! With the ability to add card packs, you can play with more than just the standard set of cards. Recently my friends and I have been using discords voice chats to all talk while playing, and while it may not be the exact same, we still have a blast. If you are interested in other card games, playingcards.io has several that would work the same way as Cards Against Humanity.
Another fun set of games to play with a bunch of people is Jackbox. It takes a bit more coordination, but they can be a lot of fun. Jackbox is a set of games that range between trivia (Trivia Murder Party), art (Bidiots), and wit (Fibbage). With 6 packs currently, each containing several games, a group can play for hours. The games are played on a console or computer with everyone having either a phone or computer with internet. The games start and you go to Jackbox.tv and enter in the room code to play. Typically, everyone would be together to play Jackbox, but there are some work arounds. To play virtually it is best to have the games on a computer. Everyone needs to be in a ground chat such as zoom or discord. And whoever has the computer with Jackbox is going to share their screen. From there everyone can play and have fun. Jackbox frequently has sales too, so if you keep an eye out you can gather all six packs for a pretty decent price.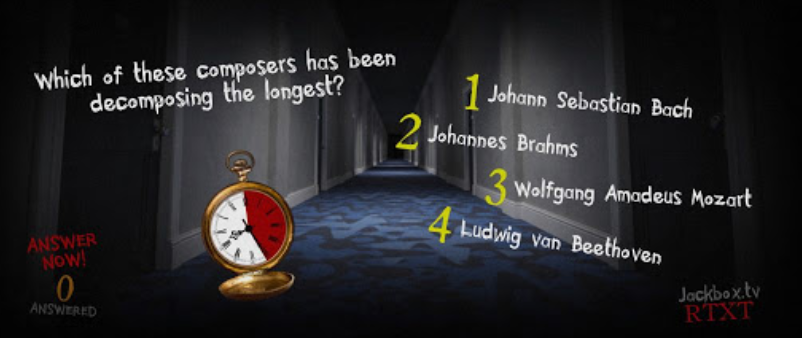 What ways have you found to have fun while apart? Share them in the comments, and lets have some virtual fun!