One of the leading technical colleges in America is proudly going a little bit Hollywood. Three University of Advancing Technology Digital Video alumni—Killian Davies, Robert San Pedro and Patrick Kebert—used their skills learned at to create an award-winning military-themed short film, Instinct.
For Killian, the writer/director of Instinct, the film was a way to develop what he had learned from his technology university education - and a way to honor his veteran father and his branch of the military.
"My dad was a Marine for 26 years, and that's where this [film became] a tribute to what we has done and a way to convey my love for what the Marines have shown me," Killian explained.
The film follows a COBRA helicopter pilot, Lieutenant Foster (Rachel Taggatz), who is shot down in enemy territory after a training mission and has to rely on her skills and wits to survive. Along the way, she faces off with a fearsome leopard—in one of the short's most pulse-pounding moments.
The sequence with the CGI (Computer-Generated Image)-created leopard required a high degree of creativity and innovation, along with the integration of all the elements necessary to simulate a fearsome predator animal on set. Sophisticated editing techniques and the use the new "Ronin Stabilizing Rig" camera by UAT student and film cinematographer Paul Lopez (another Digital Video student) enabled the suspenseful scene to go off without a hitch.
Adding to the air of true authenticity, Killian's father (along with other Marine friends), served as technical advisors for the film, providing advice on what clothing the pilot would wear, the appropriate training for the mission and other elements. With a limited budget - the film's $3,500 budget was raised through the support of 41 backers on the crowdfunding site Indiegogo - the crew had to be innovative and hunt high and low for bargains, scouring surplus stores and online outlets for equipment and costumes.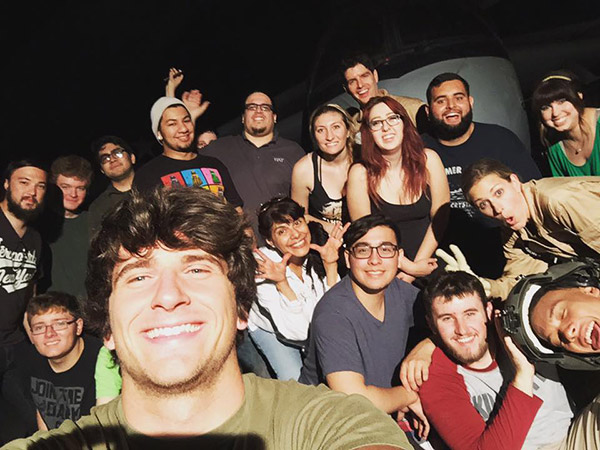 Instinct was completed as part of the UAT's "Student Innovation Project" for the three filmmakers, a uniquely creative requirement for one of the country's top information technology/cybersecurity degrees colleges. It served as a testament to the idea that creative, common-project teamwork can serve as a spark for something truly special.
The finished result has garnered several awards already, including "Drama Student Short" at the Hollywood Moving Pictures Film Festival, "Best Drama" at the Los Angeles Film Awards, and "Most Market Ready" at UAT's Student Innovation Project Fair. The Instinct team plans to release the short on social media channels - including YouTube and Vimeo - very soon.