University of Advancing Technology (UAT) sat down with Student Ambassador, Katherine (Kat) Ervin to talk about her studies and how they intersect with her work and personal life.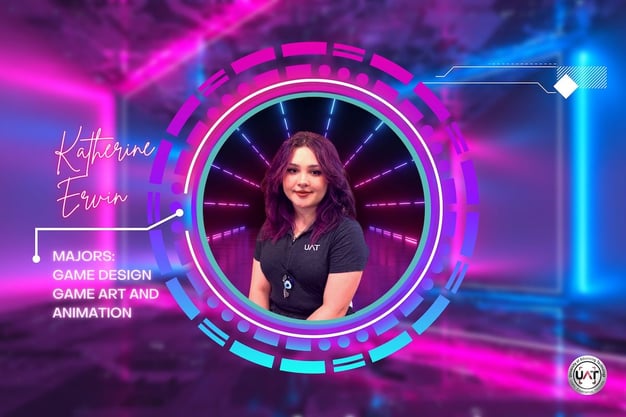 "Going into this field has made me happier than I ever have been, and I truly get to let my passion and personality shine in my work." - Katherine Ervin
What Is your major and why did you choose it?
I am majoring in Game Design and Game Art and Animation. I have always been passionate about art and video games. I wanted to find a career path that incorporated the two and I found out that being a Game Artist and Designer wasn't "the guy in his parent's basement" like everyone said but was an actual job! Going into this field has made me happier than I ever have been, and I truly get to let my passion and personality shine in my work.
How many credits are you taking this semester?
I have five classes and each class is around three credits. Next semester, however, I want to turn up the heat and take seven classes in total.
Why did you want or have to work while earning your degree?
I wanted to work because I would like to be able to have more income for my projects and to help my mother out. She is a single parent and must take care of my little brother, who is still in high school and is special needs. She would send me close to a hundred dollars a week and I would feel terrible because we never had much, and I want that money to go towards my brother and the home we live in. I also needed extra money on the side for the software that I use personally, and I hated when she had to pay for it. Now I pay for it on my own and I alleviate her of having to spend extra money weekly.
Is it challenging to work while attending school?
It can get challenging sometimes. I sometimes have a hard time with time management and procrastinating on my schoolwork. Once I get behind, it gets hard to balance the incoming work along with the late assignments and then go to work on top of it. However, having the job has given me a sense of responsibility and has helped me procrastinate less. So, in all honesty, it has helped me stay stable in my grades more than drown me!

How are you working through it?
I am doing my work earlier and on days I am off, so I do not have to worry about it. If I have a late assignment, I do the work that's recently due first so that is not late, and then I focus on each class and do the late assignments after.
What other time or monetary responsibilities outside of work and school do you have?
Outside of work I am the president of UAT's Art Club. Other than that, I do not have much more besides my various hobbies. I draw, I play videogames, I make videogames (for fun) and I also spend a lot of time with my friends going to new places and experiencing new things.
Financially, how does working as a Student Ambassador support your life?
Working as a SA has helped a lot financially. I am now able to spend money where I need it and have leftovers to drop into my savings! It makes my personal life and responsibilities much more manageable.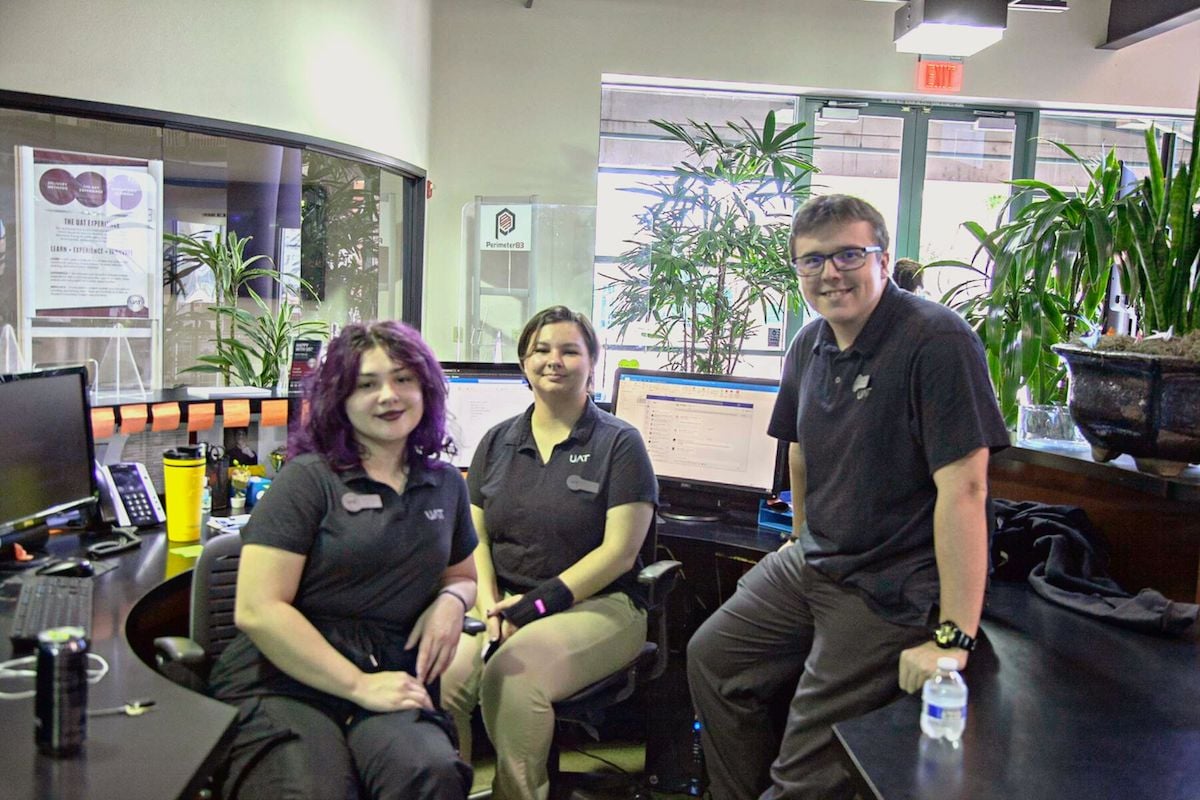 Katherine working UATx with her friends and fellow Student Ambassadors, Skylar and Hunter.
Why did you want to work on campus instead of elsewhere?
My friend, Hunter, pushed me to get this job. At first, I was unsure because I did not think I would be a good fit as a SA, especially since at the time my grades were low, and I was struggling to keep my head above water. I thought about opening my commissions again, and just selling my art, but I knew it wouldn't get me where I wanted to be financially. So, I looked into it more and I liked the idea of interacting with potential students and helping them along their journey to UAT. So, I took the interview and Ta-da! I am here now with a job I thoroughly enjoy doing!
What is the best part about being a Student Ambassador?
Honestly, I like giving tours. I know I just got tour approved not long ago, but I love meeting new people and talking to them about their interests, showing them things that might interest them and showing off places around the campus I enjoy!
How do you stay on top of schoolwork?
I like to do my work on the days I am off and before they are due. If I do it this way, then I do not have to worry about coming home from work and needing to do project work on top of it.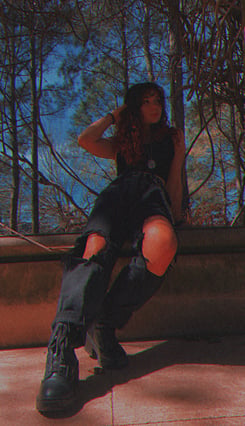 Do you have any free time for other hobbies?
All the time! I constantly take time for myself to play video games, hang out with friends and just kick back and relax! I play video games most of the time since it is something that brings me a lot of peace and happiness. I truly feel at home when I can play games. Right now, I am currently playing the game "Hades" during my free time!
How does working while earning your degree help someone get where they want to go over if you were just working?
I feel like working anywhere at any time will give you a good experience, even if it's not in your work field. You can learn valuable workplace skills like communication, teamwork, and management solutions. I believe being an SA is good for me because I can work on my social skills! It's like a bonus when working while getting a degree, so not only are you gaining real-life skills but also the skills of your trade on top of it!

Where do you see yourself in ten years?
I can only hope that in ten years I am doing what I love. I hope I am working on or have made a game that I am proud of and that many others can enjoy. Games have always given me a sense of release and happiness, so I hope in ten more years I can give many others that same sense of happiness.
What advice do you have for a prospective student who is concerned about balancing school with their work and other responsibilities?
I know this may sound crazy but just go for it! If you truly want it, then adapting to the new schedule of work and school will be like second nature. Just make sure to keep your chin high, work done on time, and give yourself the time to relax and have peace in your day-to-day life.
Looking for a student job? Check out the on-campus jobs available to students at UAT.