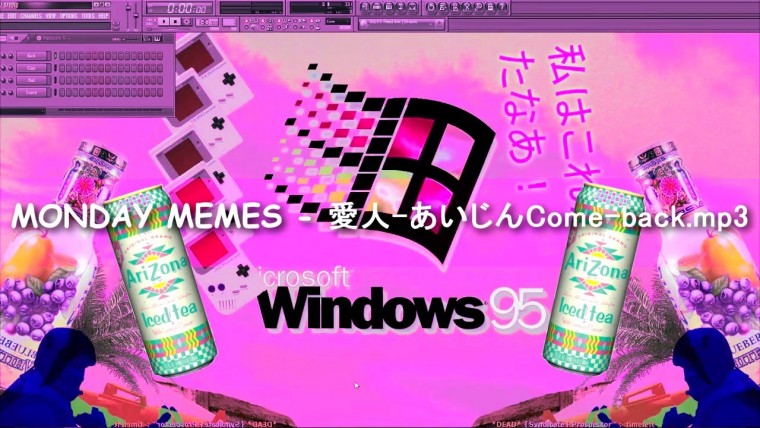 You may recognize the word "Vapourwave" and immediately think about a neon colored, Japanese text, Windows 95 themed image with Arizona tea cans randomly placed around, or you have no idea what I'm even talking about. Either way, hate it, love it, or have no idea what it is, Vapourwave has had its hand in art, music, videos, and clothing.
Let's first get into the "experience" of Vapourwave. I'm not expecting anyone to have an hour of free time to listen and watch this Vapourwave mix "T O K Y O" made by E m o t I o n a l T o k y o 2, but I do encourage you to at least skip around and listen and see for yourself this interesting mix of disassociated beats, jazz, electronic, rap, Japanese, and crazy visuals from old commercials, cartoons, video games, and videos of unknown origin. Depending on the sub-genre of Vapourwave, this music will make you groove or put you to sleep. Either way, it is quite a trip.
I personally find Vapourwave to be an awesome genre of music that challenges what music is, how it is made, and what can be "turned into" music. The beats and vocals are very pleasing, and it creates a very surreal atmosphere. This type of music is easier to adjust to for those that prefer ambient electronic music with significant beats.
Now, the interesting history of the internet born genre of Vapourwave.
Vapourwave (more commonly spelled "Vaporwave") was born around 2010 in internet forums such as Reddit and 4chan. This phenomenon made this a first of its kind as there was no geographic or demographic origin. Originally, vapourwave was an aesthetic reminiscing of 80's and 90's culture of glitches, Japanese themes, videogames, elevator music, and pixelated tropical settings. The inception of what would influence the sound of vapourwave came about when new age electronic artist Daniel Lopatin - DJ name "Oneohtrix Point Never" - released an album that mixed two very different artists together in a Houston "Chopped and Screwed" style mix that was published on the internet titled "Ecco Jams Vol 1." Like most great artists, Daniel created this album for his own entertainment and because it was fun.
Later on, one of the most notable songs in vapourwave, "Floral Shoppe", was released in 2011. This mix of synthesized beats, 80's soul, and chopped songs came together to create its unique sound.
Because this genre was born on the internet, the culture of vapourwave personifies what it means to be open source. The majority of the songs have been reused, remixed, and have are produced by anonymous makers with obscure names.
Some artists, though, have become more notable in the vapourwave genre because they've either influenced or have been influenced by the evolution of the sound. Yung Lean, a 20 year old from Sweden, became famous in the community (out of love and hate) rapping about drugs, depression, sex, and Arizona Tea over his self produced vapourwave beats. At the age of 17, Yung Lean recorded and shot a video, "Hurt", that pretty accurately shows the aesthetic of vapourwave with his own twist of rapping over these vapor beats. Within a few seconds of the song, you will be able to see why there is such a division of fans and haters. He is extremely young with a style of rap and vocals that people will come to love or hate. Though I am a fan, I definitely recognize why this video can make people laugh.
[Explicit lyrics]
You may ask yourself, "Is this guy serious or just making a funny video?", but his career has been mildly successful for such a young and unique sounding rapper. His YouTube channel has 317,000 subscribers and a total of 80.7 million views. His most popular song, and one of the most recent, has been a huge success for him with 18 million views alone. The production quality, beats, and vocals have improved significantly since the release of "Hurt". He has transitioned into a more mainstream sound that has broadened his audience, and allowed him to establish his own group unofficially called "Sad Boys". Though his sound has changed and he is now considered to have created another genre, "sad rap", his themes are still consistent.
One other notable artist in Vapourwave is a less public facing artist named Blank Banshee from Canada. His real name and any personal details are unknown, and he is known to wear masks during live shows. His albums were inspired by both vapourwave and trap. This combination led to the growth and influence of a sub-genre known as Trapwave (or vaportrap) which combines styles of vapourwave and more defining/coherent beats found in trap. So far he has released two albums, Blank Banshee 0 and Blank Banshee 1, but just announced a third album with no release date yet.
The appeal of more traditional vapourwave is disconnect, mystery, and discovery. The internet has become so connected to names, faces, and identity, this new genre of anonymous creation gives people the feeling of finding something in an abandoned house - no known story, no known name, and a faceless creator. The sounds and vocals are meant to be foreign and even uncomfortable to the listener. The early themes were about the lifelessness in technology and even in people.
Like the internet itself, there is no easy definition or consistency of what Vapourwave "is". The music is only six years old, created by anyone, and hasn't reached the public's common knowledge yet. Even artists like Skrillex have been around longer than this genre, so it still has to develop, go through its growing pains, and establish itself in the music world. I'm excited for what Vapourwave has to offer as one of the first anonymous, internet-born musical genres.