Hello all!
So this weekend we mourn Ronda Rousey's first loss in her career. I went to Buffalo Wild Wings Saturday night hoping to see a great win but instead I felt the entire building shake with the disbelief of her fans. I still can't believe it to this day that she lost. Watching the fight, I knew that after Holly Holms first hit to Rousey's face this was going to be a hard match. Once going into the second round I knew it was going it happen. As a martial arts student I can see why and how Ronda lost but the fan in me still can't believe it. Knowing that Rousey is a ground fighter gives her opponents certain advantages. In every other fight her opponents were never able to keep her away from the ground. They would fall prey to her ferocity and fall hard and fast. Holly Holm definitely trained for Ronda. Holly was Ronda's first opponent in her career that was able to keep Ronda away from the ground. Holly kept Ronda up and beat her.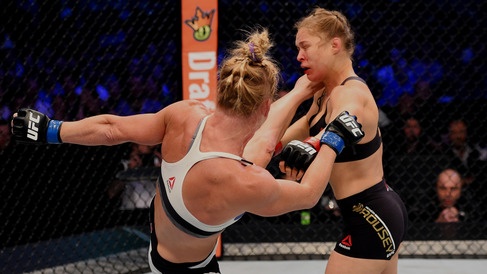 For those who don't know much about MMA, it's ok neither do I. I only started getting interested when learning about Ronda. Her awesome geeky personality makes her a great idol. Before every match Ronda has stated that she watches an episode of Dragon Ball Z. Her favorite character is Vageta and she personally takes a lot from his character. Ronda is most known for her stellar fights. In which , before the Holms fight, her total fight time in the ring was less than 30 minutes. Most of her matches were under 1 minute.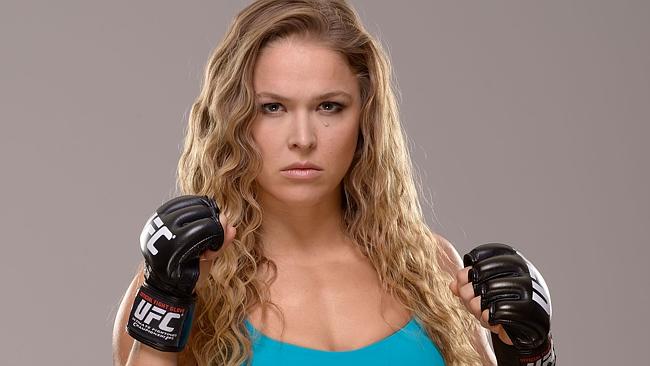 Recently , i.e before the fight, EA and Madden had announced that Ronda was the cover of their new UFC Sports game. The funny thing about this event is what many call the "Madden Curse." The Madden Curse is an alleged superstition among sports fans that an athelete will have a poor season or will suffer an injury after appearing on the cover of MAdden NFL. It all started in 1999 when EA Sports replaced John Madded with Garrison Hearst on the cover of Madden NFL 2000. As one of my friends put it " In the beginning EA had rejected the idea of the curse, but after 8 or 9 years in a row of the curse coming true even they started believing it."
Many people are blaming the Madden Curse on Rousey's defeat. I definitely don't, because I can see how she lost from a martial arts stand point. But....Can you really blame them??
That's all for today!
Karina