I figured it would be fun to give a teaser of my Red Riding Hood project. It's been a long time coming working on a game ready 3D model of the character in Zbrush and getting everything to look just right to go back to low poly modeling. This week I've actually been focused on textures, so it seemed like a fun idea to share where I'm at so far.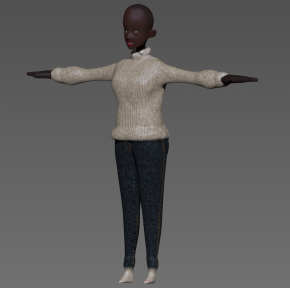 You can tell I'm actually pretty far along in getting the details right! Lynn Understiller, one of our upper-level Game Art professors, was going over some interesting ways to create fabric textures from scratch in Photoshop and apply them to a UV Unwrapped model inside of Zbrush. Zbrush actually has a lot of automatic unwrapping tools which can make applying those textures way easier, not to mention you're basically painting on the texture like you would paint a clay figure, so it feels very natural. (There are other programs like Substance and 3D-Coat that also let you do this)
This is actually the wrong model though! Unfortunately since my personal computer has Zbrush 4R7 installed while the school computers are still on 4R6, I can't use the same Zbrush file both inside and outside of class! It would be like if you tried to open up a Photoshop file in Microsoft paint, newer and more complex versions of files don't like it when you try to downgrade them. So while I keep chipping away at the textures and optimization in class, my zbrush sculpt outside of class looks more like this: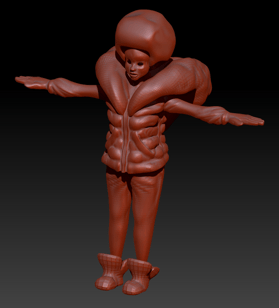 There is still a ton of detail work to do before she'll be portfolio ready, but the progress I've got done so far has been pretty encouraging. I'm excited to play with some of the methods of creating hair and fur which will be a big part of both her hood and the Wolf. So if you have a big project ahead of you, take time to appreciate those little bits of progress you've made. Just never forget to check your software version numbers!
Hopefully you'll soon be seeing a blog post where I go over all the different parts of creating this project.
Until next time!