I am back from my first trip to Austin, Texas for Rooster Teeth's annual RTX! I drove down on July 4th with two of my friends for a nice 15 hour drive from Phoenix to our place on 6th and Congress in Austin. There isn't anything exciting to talk about regarding the drive there or back. I stared at the road all day and we only stopped to get gas when needed. My two friends were Nathan, my old roommate, and Tyler, my other good friend here who is also a guardian for the event. She has gone a few times, but it was Nathan's and I first time attending.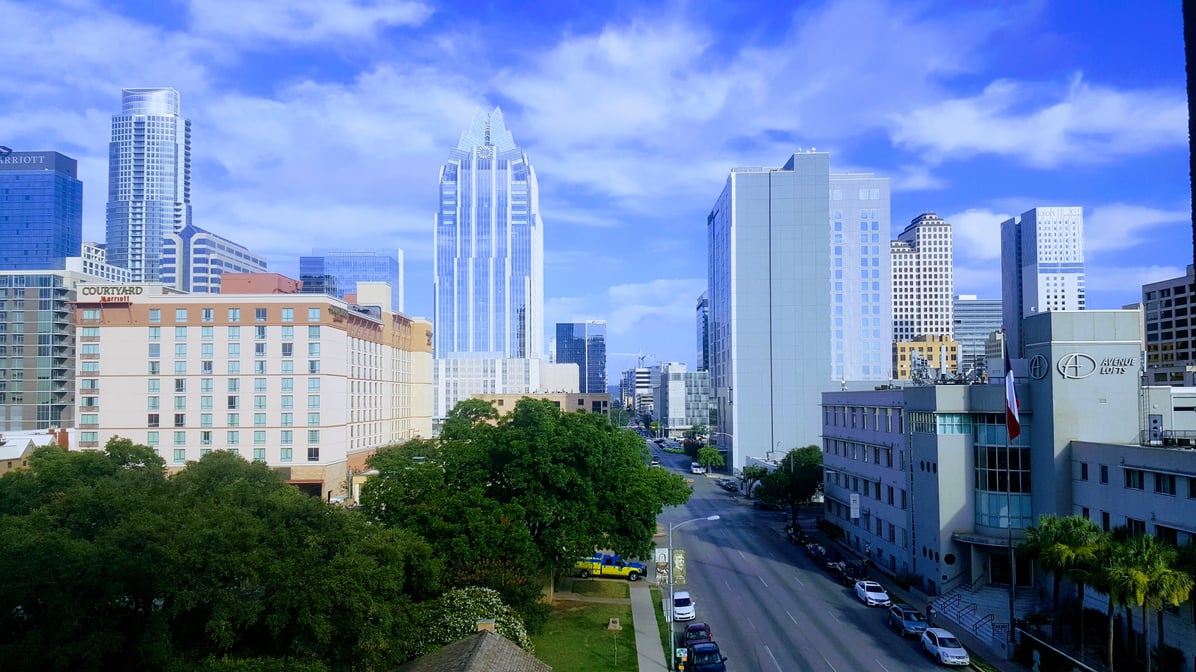 We arrived Tuesday afternoon and we walked down 6th street to a bar called "2 Bucks" just to check out the popular street and the chaos. I also don't remember seeing any drink on the menu that was actually only two dollars, but it was a fun place none the less. After maybe an hour we all decided that all we really wanted to do was sleep. On Wednesday, we went to a restaurant called "Eureka!" I had the absolute best burger at this place. The burger was a bone marrow burger, and you weren't allowed to modify the burger in any way. You also don't need to at all - that burger was so good I actually went back the next day to get the same thing. I also appreciate that their Moscow Mules are actually in copper cups.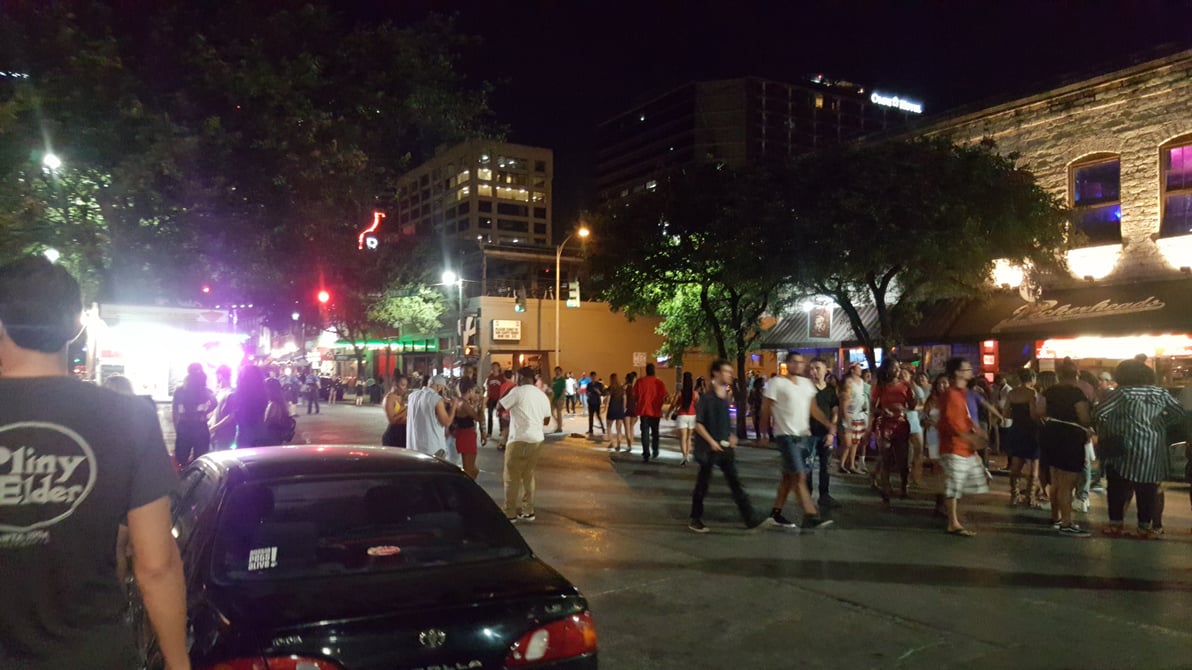 Thursday started our RTX adventures. Tyler was a guardian so she went to meeting all day, but Nathan and I went to the early badge pickup event. We walked to the convention center at 10am and lined up for the opening at noon. We waited in line for a long time, but once the badge pickup began at noon the rest went pretty smoothly. That day we also went to a very traditional Russian House for dinner. I always love going to really traditional restaurants where the waiter/waitress informs us of food, culture, and etiquette. We started off the meal with a shot of Vodka and a piece of bread dabbed in salt.
Friday began RTX. The first two days there were five panels that I wanted to see, so that's all I did during the day. The panels were also in the hotel next door, so I never saw the inside of the Expo hall until Sunday. On Friday, I saw Funhaus, Relationship Goals, and Red vs Blue. Funhaus was a blast. The whole panel was meme war themed. Relationship goals is one of my favorite First only shows with Geoff and Griffon. Instead of having Rooster Teeth staff on the show, they selected a few couples from the RT community to talk about their relationships. The RvB panel was extremely hype. A lot of the discussion was about the new director, but we also got to see the newest episode and a teaser for another new show that is about Mechs.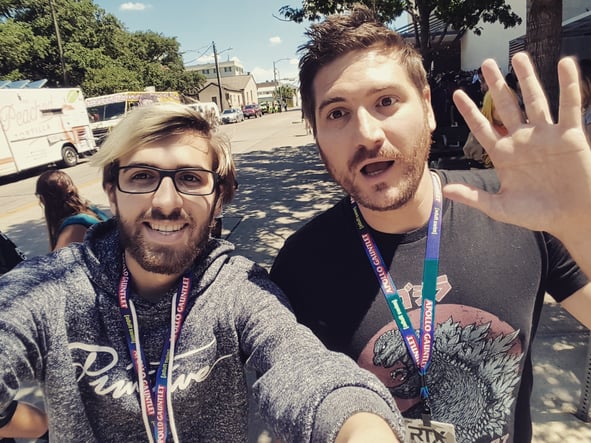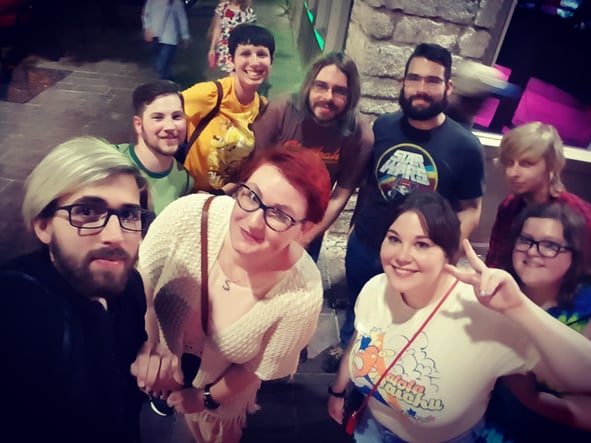 Saturday morning, Nathan and I went to the Founding Father's panel. Pretty much a podcast-style and Q&A with the founders of RT. In this panel, that also announced a new feature length movie (not related to Lazer Team) that is a comedy/horror. Both of the shows they announced are a long way off, though. Later that day I also saw the Glitch Please panel. I really enjoy Ashley, Ryan, and Gus talking about game news and their adventures in games. I'm not much of a gamer, so I get to experience a lot of gaming second-handed through this show.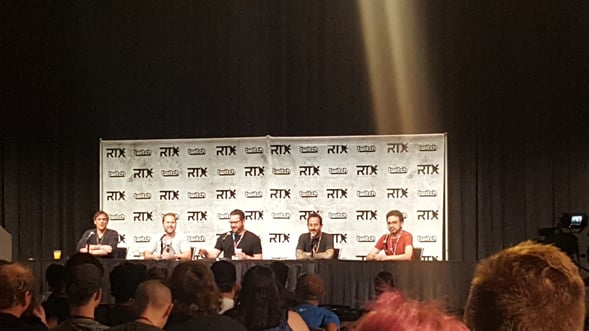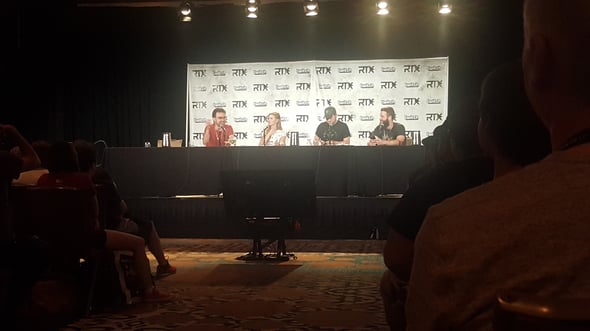 On Sunday, I didn't have any plans except to go to the expo hall and check out all of the vendors inside. Inside was an "Artist Alley" full of independent artists and amazing art. I spent most of my money there buying posters, wall scrolls, and pins. I also had to stop at the Filthy Casual booth to pick up a few shirts. The rest of the day was pretty relaxed, I actually left around 11:30am to go to a sports bar across the street and hang out there for a while. I sat at the bar and talked with other RTX people about the week's adventures. I am extremely happy that I got the chance to go and went. I met some awesome people while I was there and I will definitely make my way back another year!