Hello all!
So this past week I took a trip up to Sedona, AZ. The reason for this trip was to go to my parents grand opening to their bed and breakfast. Sedona is about a 2 hour drive from Phoenix. It is a town that is surrounded by beautiful mountains and a great view. It is a town that is full of travelers and often frequented by college students who enjoy hiking and sight-seeing.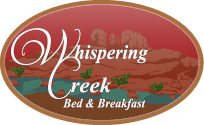 My parents decided that they wanted to open a bed and breakfast once my sister and I were in college and away from the house. When I came out to Arizona for college my parents took a look around Sedona and fell in love with the area. They knew then and there that they wanted to open their establishment in Sedona. It wasn't until this past spring when they were finally able to move out here from Maryland. They got settled in and opened their bed and breakfast in June. This past week was their Grand Opening, and when the major and many other representatives came to look at their business and to cut the ribbon.
So if you are ever looking for a place to stay in Sedona that is super close to the main street I recommend the Whispering Creek Bed & Breakfast!
That's all!
Karina