Hey everyone! It's the end of summer, and while the heat has not been letting up at all, at least the monsoons are starting to come in to help the parched desert.
This semester was a very rough road to travel. Being in all 300 and 400 level courses can quickly take its toll, especially when you are not prepared for the workload. I started off my two Video Game Art classes (GAA320 - Environment Effects & Animation and GAA430 - Advanced Character Rigging & Motion Capture) having little to no project with readily available assets. I decided instead to use my final project from Concept Art to base my projects off of. You can look at my final below: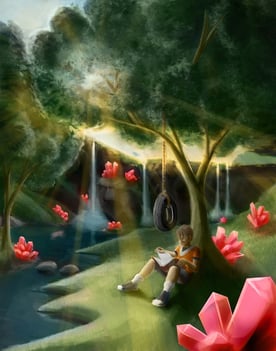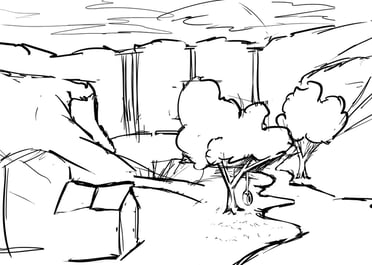 So working from my own project was a lot of fun because I had a strong idea of how I wanted the environment to look and play. What was more difficult was creating all of these assets from scratch! I grabbed the model of my character that I had made in a previous class and changed up his rig to go with the assignments in GAA430. The griffin on the other hand was an entirely new concept to go with the chimera portion of the class, so I made a quick base in Autodesk Maya 2014 and brought it into Zbrush to sculpt out the details. Here's the concept and the end result for the griffin: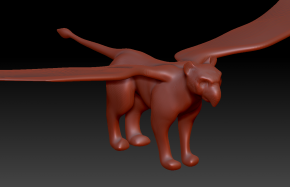 I took some time in Unreal 4 to animate the materials I created for the waterfall, trees, Crystals, and other assets built in Maya 2014 and Photoshop CS5. I also took some time to clean up the Motion Capture data from our capture session a few weeks before so that I could toss a walk cycle, an idle animation, and a jump animation onto the boy. I also put a petting animation onto a model of the boy next to my griffin (who I gave a walk cycle).
So after months of work and hours of compiling the Unreal 4 game, here was the final result:
http://youtu.be/z0e89QLoUqg
I think it payed off, and I'm looking forward to improving all the skills I've learned in these classes. Thankfully, the semester is over so at least I can relax for now.