Hello all!
So everyone usually knows about those dreaded "Freshman 15" pounds that you gain when you enter college. College kids are an interesting bunch because the concept of free food becomes much more important to us. Now after a while in college you'll start to realize that you've gained maybe a few too many pounds while you're here. At this point or even before you gain the Freshman 15 you may want to lose some weight. This blog will be about some things you can do before, while you're here as well as plan ahead to do to lose some weight.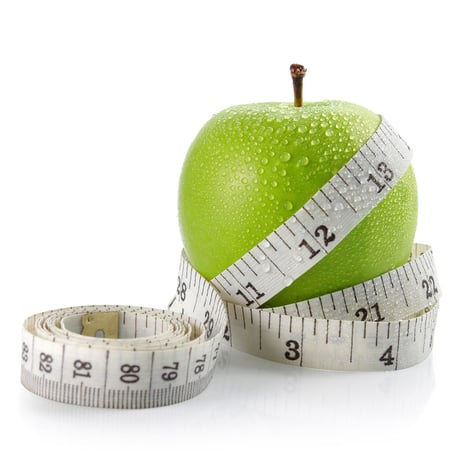 WARNING THIS BLOG MAY MAKE YOU HUNGRY!
sorry, not sorry :P
Don't want to work out? That's fine, I totally understand. Sometimes a good way to lose weight is just a good diet. UAT's cafe does a good job of staying diverse in the meals they create. If you like to cook your own meals, then there are a lot of options for you. Since I live off campus I decided to only stay with my Student Ambassador meal plan, and cook the rest of the time. Although, because my schedule is kind of busy I usually end up picking up food on my way home. I recently am trying to lose some weight before graduation and have gotten a Planet Fitness membership as well as making a list of meals that aren't fast food I can make. My roommate, Nicholas, is a great cook and offered to help me a bit as long as I buy the food to cook.
[su_youtube url="https://www.youtube.com/watch?v=JMP8_HioNqU"]https://www.youtube.com/watch?v=oi7KPDi_yQI&feature=youtu.be[/su_youtube]
When I am looking to cook, I want simple things that are also a bit healthy. You can never go wrong with a ton of fruits and veggies. I can admit I am a bit on the picky side but I do like a lot of healthy things. I am planning on having at least one salad a day as well as fruit and vegetables.
Grilled chicken goes a long way with a salad and by the times you're done you'll actually be pretty full. The main thing to be aware of with salads is the dressing. Make sure you get low fat dressing, they don't taste much different but they are better for you!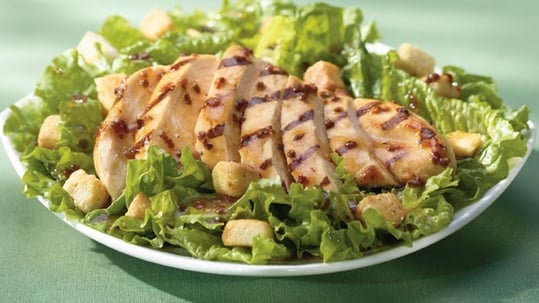 Another one that may surprise you is chicken and rice. Throw in some carrots, eggs, and peas into your rice and cook them together with very little soy sauce and you have some great chicken fried rice. Even just some home cooked fried rice is very good for you. Be sure to stay low on the soy sauce and don't forget to add your veggies.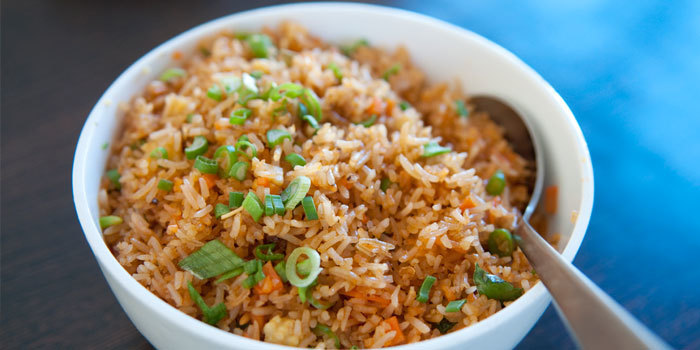 One thing my mom taught me and is becoming very popular recently is using aluminum foil grilling and baking. If you're a fan of salmon, tilapia, or any other kind of seafood it goes really well with this. If you're like me and don't like seafood, chicken is a great alternative. Put your chicken and your choice of veggies in the aluminum foil. The vegetables can be anything that you like, my personal favorite is cauliflower, broccoli, garlic cloves, and asparagus. Put some seasoning and butter on top of all of the food and stick it in the oven for about 20 minutes. My roommate has recently become a huge fan of making salmon with asparagus and red skinned potatoes. Below is a picture of when he cooked it recently.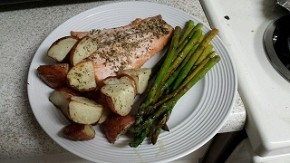 These are some great things that are actually pretty cheap to buy and make.
That's all for today,
Karina