Continuing from last time, Gravity Falls is the next on our list of amazing cartoons that have come out in recent years. I know Nick and I already love this show and can't wait for the next season. So without further ado, let's get started!
What's it about?
Gravity Falls from Disney Channel and creator Alex Hirsch is a show about twins Dipper and Mable Pines who are visiting their Grunkle Stan for the summer. What might seem like a boring summer vacation ends up being a crazy and supernatural adventure where nothing is quite logical and no one is who they seem.
Defying Gravity Expectations
Gravity Falls itself is far more than what it seems. Like Steven Universe, the show has a large over-arching plot and plenty of themes, recurring characters and props, and a ton of foreshadowing. Even the small shorts they do for the show have hidden secrets, as fun and innocent as they may seem at first.
https://www.youtube.com/watch?v=xJJPgsW0CyQ
But unlike Steven Universe this show goes beyond just great storytelling. If you are familiar with the illuminati meme, that's no exaggeration for this show. A passing audio clip that sounds like the wind could be a secret message, and in fact there is a new secret message hidden in the theme song for every episode. Often a code will flash at the end of the credits which has a cipher somewhere hidden inside of the show itself. These codes have been anything from simple jokes for those who find them, to actual foreshadowing and ill-omens of future episodes.
One of the characters in the show, Bill Cipher, is an actual illuminati symbol Dorito.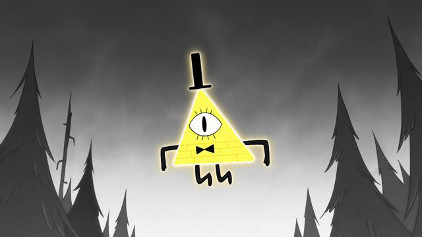 The amazing thing about all these dark themes is this is produced by Disney, who has a reputation of light-hearted characters and styles. As the story progresses the themes only get darker and darker as well, with the team getting away with more and more cartoon "taboos" such as calling McGucket, one of the recurring characters of the show, "McSuckit". It's really pushing the boundaries of what cartoons can be in terms of content that we haven't seen since the early 2000's.
Conclusion
If you love deep story, dark mystery, and light-hearted humor this is the show of your dreams. The animation is charming against a background full of supernatural monsters, magic, and dinosaurs. Alex Hirsch creates a world where something as simple as a whisper can be an omen of devastation while still allowing these 12 year old "Mystery Twins" to laugh about their relationship troubles and bonding time with their creepy old Grunkle.
With the return of Season Two right around the corner, it's the perfect time to check out what could be one of the most impressively complex cartoons to bless our blind eyes (Wiki).