Hello everyone!
So this past weekend a group of students went to Anime Expo in Los Angeles, California. Now if you're not familiar with what Anime Expo is, also if you don't know the meaning of "Weebs" from the title of this blog post, I'll explain. Anime Expo is a giant conference for Japanese cartoons, otherwise known as anime. A "Weeb" is short for the name "Weeaboo" which is a title for a non-Asian who is super in to Japanese pop culture. These shows can go in many different directions. There are many different genres of anime just like there are regular TV shows. Now at these conventions people dress up as their favorite characters. This is called Cosplay.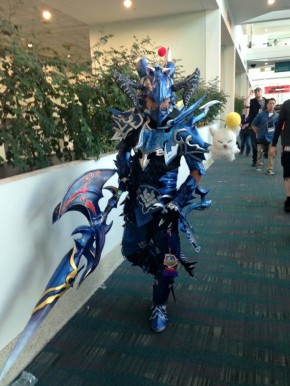 So, now that you are a little more informed, let me tell you a bit about my trip to Anime Expo!
We woke up at 5 in the morning to drive to LA, when we got there the badge pick up was super fast and easy to get through. Pretty much the entire trip was spent going through the exhibitors hall and artist alley. The Exhibitors Hall is for companies who are selling licensed product that may or may not be available online or in the USA. Artist Alley is a separate section where artists rent out booths to set up fanart or original art to sell. To be honest, we went through Exhibitors Hall first because we knew most of our money would be spent in Artist Alley. I was super happy cause I got to see one of my artist friends who lives in Las Vegas while I was there.~
I had a lot of fun at the con and it was definitely worth the lack of sleep!~
That's all for today!
Karina