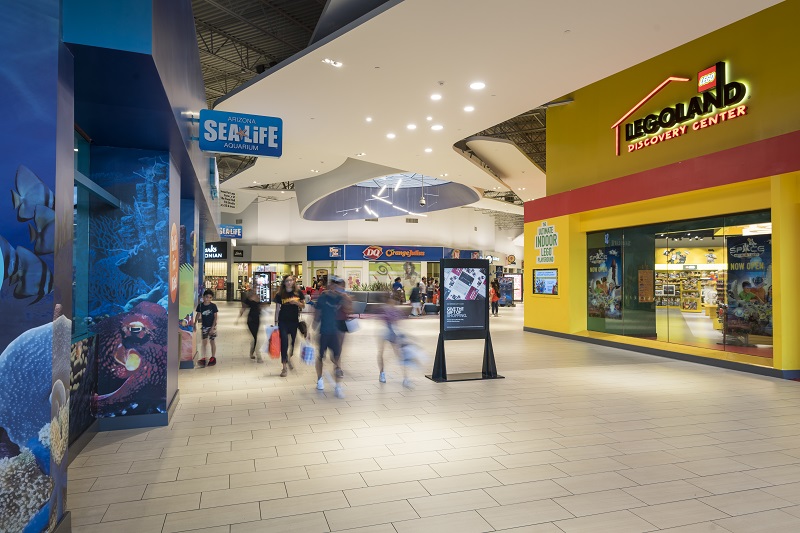 Being in a brand new state for your first time can be a little nerve racking. It's my first time in Arizona, and I had no idea about the area the school was in—I was just excited to be here! We were in luck with the location of the school because Arizona Mills is about 5 minutes down the road from campus. Arizona Mills is a mall in Tempe, Arizona that caters to all sorts of fun. There is a Harkins Theater with an Imax Theater built into it, a Lego Store with a Lego Land and a Sea Life Aquarium. There are also plenty of places to eat like the food court, Rainforest Café and Johnny Rockets. There are lots of places to shop like Forever21, Box lunch, Hot Topic, Game Stop and many more!
When I first moved here, I would walk to the mall, and it was about 15-30 minutes depending on if you get stopped at a crosswalk waiting for the light. It's a nice walk, too! Baseline can be a little noisy, but popping in your headphones and listening to your favorite songs makes the walk even better. There is also public transit as an option, with bus stops right in front of campus. The bus ride is only about a 10 minute drive to the Arizona Mills. If you have your owe car, you can make it to the mall in about five minutes.
As a Lego fanatic, I love the Lego Store! Its my favorite place in the mall, and there are plenty of sets for you to look at while you are there. I also love food and the food court has great options. Recently, a Korean Corndogs Restaurant just opened right next to the food court!
If you're in the mood for a more peaceful stroll, the Aquarium is perfect for that! It is great for all ages, and absolutely gorgeous with fun fish and amazing decorations that make you feel like you're actually under the sea. Personally, I love jellyfish and was excited to find out they have some there.
If you are looking for something to do with some friends, the mall is a great option. Recently, the school rented out a theater for us to watch Thor: Love and Thunder, which was so much fun! It was extra fun because it wasn't a movie I was planning on seeing on my own.