We are in grave danger from the spoilers. Our freedom – our very way of life – is at risk.
Warning: This article contains spoilers for an upcoming or recently released product.
Read at your own risk!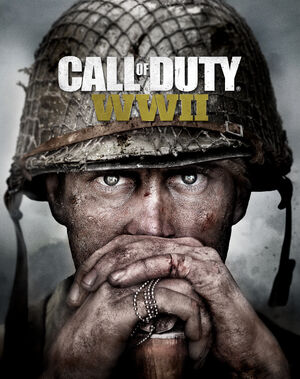 In-house engine by Sledgehammer Games
Genre(s): First-person shooter, Epic war drama
Survival horror, Science fiction (Nazi Zombies)
Mode(s): Campaign, Multiplayer
Nazi ZombiesRatings: ESRB: Mature 17+
PEGI: 18
ACB: R18+
Platform(s): PlayStation 4, Xbox One, Microsoft Windows
Media: Blu-Ray Disc, Digital Download
System requirements
OS: Windows 7 64-Bit or later
Processor: Intel Core i3 3225 or equivalent
Memory: 8 GB RAM
Graphics: NVIDIA GeForce GTX 660 2GB / AMD Radeon HD 7850 2GB or better
DirectX: Version 11.0
Sound Card: DirectX Compatible
Call of Duty returns to its roots with Call of Duty: WWII--a breathtaking experience that redefines World War II for a new gaming generation. Land in Normandy on D-Day and battle across Europe through iconic locations in history's most monumental war. Experience classic Call of Duty combat, the bonds of camaraderie, and the unforgiving nature of war against a global power throwing the world into tyranny."— Official description
Call of Duty: WWII is a first-person shooter video game developed by Sledgehammer Games for the Xbox One, PlayStation 4 and Windows. Leaked concept art for the game was initially found in late March 2017, a month before the official reveal on April 26th, 2017. The game was released on November 3rd, 2017. Call of Duty: WWII is the fourteenth game in the Call of Duty franchise and Sledgehammer Games' second to be developed in a three-year development cycle.
Set during World War II, it tells the story of an unbreakable brotherhood of common men fighting to preserve freedom in a world on the brink of tyranny. From the beaches of Normandy to the Hürtgen Forest, experience a dramatic story highlighting some of the most dramatic and iconic moments of World War II as a young soldier, Ronald "Red" Daniels, who is facing the unforgiving reality of war alongside his brothers in arms.