Hello All!
Summer has gone into full swing here in Arizona. Don't fret though, there is plenty to do during the summers here in AZ. After living in Tempe for 3 years now, you'll find that despite it being hot out there is a lot to do and explore while you are in town. I love the positioning of the school in relation to Phoenix and Downtown. We are in a perfect spot where we aren't in the city but we haven't left the college town feel of Phoenix. You'll find a great bus system and a lot to do within just 5 minutes of walking from the school. If you wanted to go to Phoenix or Downtown, both are about a 15 minute drive or a bus ride away.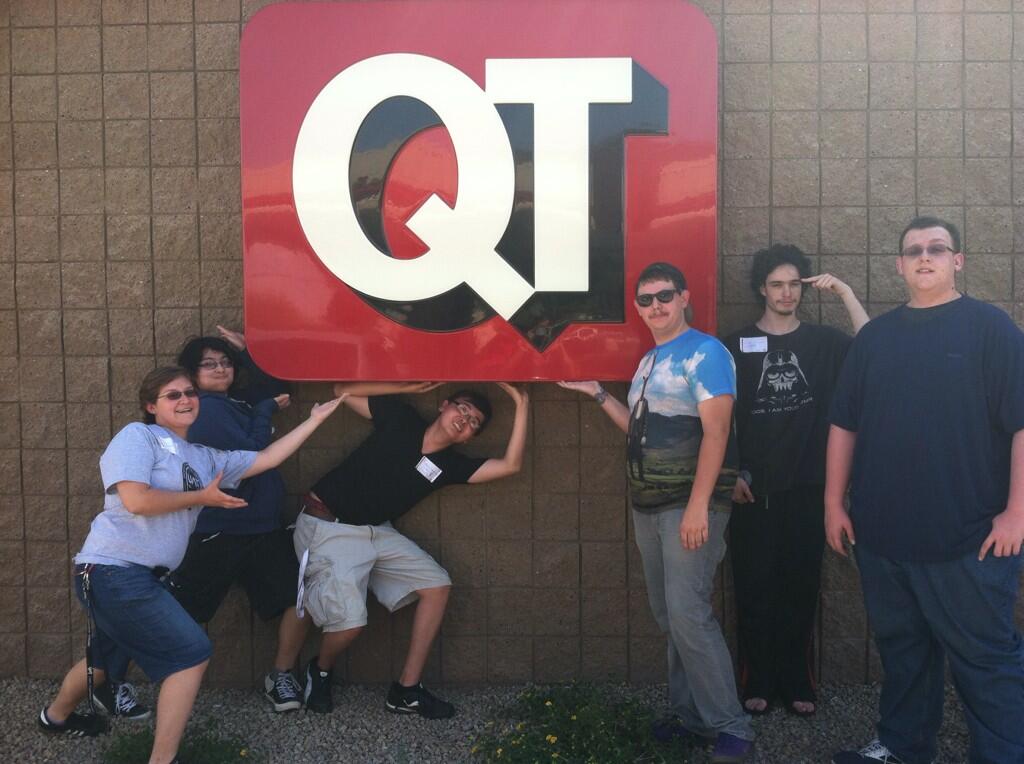 Just around UAT there is plenty to do. For all of your basic needs we have a Fry's Grocery, Subway, Little Caesers, Thai Cuisine, a Wings Stop that just opened, and Sonic across the street. For your other shopping needs there is a Goodwill in the same shopping center. Now if you're like me and sometimes like a midnight snack but don't want to walk across the street there is a QT (Quick Trip) less than a 5 minute walk from the school. This particular QT has a Kitchen where you can order food to be made. This is really nice but it's unfortunately only open until around 9 PM so plan ahead! QT is a great safe place for students to go to. I know many students who make "Midnight QT Runs" to get rid of that midnight cravings. This QT is packed full of drinks, ice cream, hot food like hot dogs, and taquitos, and a whole couple racks of snacks that you can choose from.
Now that's just your basic needs. During the summertime everyone is looking for fun things to do! Just down the street (maybe a 10 minute walk) there is the Arizona Mills Mall. This mall has all of the essentials for a UAT student. There are a whole bunch of fun things to do at this mall! The closest GameStop is located here, as well as other great stores like F.Y.E., and Hot Topic. In this mall there is a Harkin's movie theater, Rainforest Cafe, a giant Lego store, and even an Aquarium! The Harkins theater has the largest IMAX screen in Arizona, about 3 stories tall. This is great to watch all of your favorite movies on. They have started their summer sales where you can rent out the IMAX theater to play games for an hour! During the Summer they usually have a carnival that is held in the parking lot. My friends and I have gone to this carnival a few times. It's a lot of fun because they have a whole selection of rides and games and it's actually pretty cheap. The best time to go is when the sun starts to go down. Everything is well lit and the temperature starts to go down for the prime time to go visit the carnival.
If you wanted to have fun by going to Downtown or to Phoenix it's very close and there is plenty to do. In Downtown there are a whole bunch of shopping centers. One of the biggest and best one to visit is the Tempe Marketplace. This is a very large outdoor mall that has a whole variety of stores that the Arizona Mills Mall doesn't have. It's great to make a day trip to go to walk around, go shopping. I recommend checking out a place called Portillo's. Not related to UAT's very own Professor Portillo, but we like to joke about it. Its a very nice place that is pretty cheap but they have really good food. Another great place that my friends and I love to go to is a place called Ramen Republic. This place has literally the best ramen I have ever had! Their bowls of ramen are so huge only a couple of my friends can finish the bowl. My friends and I go here a lot during the summer because it's about 8$ for your ramen and your drink. It also have a nice friendly setting where my friends and I love to hang out in and just talk and joke about things.
By going a little east from the University there is a great place called Main Event. At this place there is a whole bunch of things to do. It's like a Dave and Busters but better! Here there is Lazer Tag, Bowling, Billards, Arcade Games, Gravity Walk, Pizza, a Bar, and a restaurant. My friends and I go here a lot during the summer and especially for birthday's and get together's. Best thing about Main Event is that there are a whole bunch of deals that go on during the summer like "Unlimited Bowling after 10PM for only 7$ a person".
In the summer there are a lot of deals that happen in the local museums as well. when my family came to visit we went to the Arizona Science Center. This is a great place to go to spend the day at. This museum focuses on being interactive with it's visitors. There's a kids area where they have these water spouts as well as a music section where you can see how sound is affected by distance. As I'm sure you've read in my friend Jacob's post, Phoenix Comic-con is a great convention to attend. This convention usually happens in the summer and is a great attraction for the geek culture. I went for a couple days this year. I love going to conventions because it's a reason to get out in public and walk around having fun all day.
As you can see there is a lot to do in the summer so you'll never be bored or you'll always have something to do. There's still plenty to discover and find here in Tempe. I feel like after 3 years I've barely scratched the surface. Out of personal experience I try to go out and have fun with my friends once a week to get out of the apartment and to go have some fun.
That's all for today,
Karina